The Word Around Campus Is....
Why do our ambassadors LOVE the Dormifam so much? What they had to say: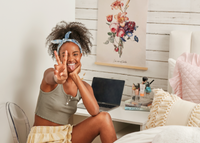 Dormify is the perfect outlet for me to channel my creativity in creating my dream dorm. Being an ambassador has been amazing for me, presenting me with tons of opportunities for new experiences, networking, & fun! Additionally- being able to share the products I love the most has been incredible for me, my friends, and family!!
I love being a Dormify ambassador because it has given me the opportunity to grow as a content creator, sharing my love for all things room-design on social media and show how I use Dormify to create a relaxing college living space! Being able to visit the Dormify headquarters has inspired me so much, and this ambassadorship has given me the experience of a lifetime!
The whole time I have been a Dormify ambassador I have felt welcomed and appreciated as a part of a huge and amazing community! I have gained so many opportunities from being a part of the CEO Club and visiting the headquarters along with having access to fun missions daily that allowed me to earn different prizes! The Dormifam is one of the best and I am so happy to be a member of it!
Dormify was one of the first campus ambassador partnerships I've done and i havent regretted it. It opened the doors to alot more opportunities for me and had a chance to partner with other brands through Dormify. I have also had the opportunity to expand my network on campus and even got to decorate our tour dorm room with all dormify products! I would recommend this to anyone that's interested!
I love being a Dormify Ambassador because it allows me to explore my passion for interior design. Being a Dormify Ambassador also provides a platform for me to connect with a community of like-minded individuals. As an ambassador, I have the opportunity to showcase Dormify's products that are designed to maximize space, enhance organization, and infuse personal style into every corner of a college dorm. Being an incoming freshman, I'm excited to decorate my own dorm with Dormify products.